Work slowly began again on the back door step. A design was redone so that the whole back steps could be taken apart if something happened to the water pipe and we needed immediadate acess to it. The supports would be sleepers which meant we wouldn't have to manipilate the pipe to fit the steps and instead the sleepers had notches cut into them so the pipe could run through them. Insulation was also added so it wouldn't freeze in the winter.
The railway sleepers we bought turned out to be still green wood and very wet! We had to wait months for them to dry out in order to be able to cut out notches. This was taking months to do and was holding things up and so we decided to take drastic action and bring them into our spare bedroom to dry out. They dried out in 2 weeks and then we began work on putting them in place.
Here's how they will be positioned with almost all the sleepers cut to length with the water pipe running through them.
The next job was to creocote all of the sleepers. Which was a long, messy and smelly job.
Once the sleepers were treated the back door step was then built and it only took us an afternoon to do. Wanted to use scaffold boards for their worn effect but ended up having to go for decking instead. The next thing to do was to work out what to fill all the holes with. One idea was glass bottles and to have lights threaded into them so then they glowed at night (hence all the bottles in the picture below).
I know this hasn't been built the way decking is usually built and most people would usually hide the supports with a face board but I decided to try something different and make a feature from it
The idea was then to turn it into a sort of bug heaven with the 7 lower gaps stuffed with logs all with holes drilled in them to help hibernating insects next year and the 4 upper gaps to be filled with bamboo canes for the bees to be able to hibinate in too.
By late febuary landscapers had arrived to connect up the path installed in 2012 to the new gate way.
This is how it looked before they arrived.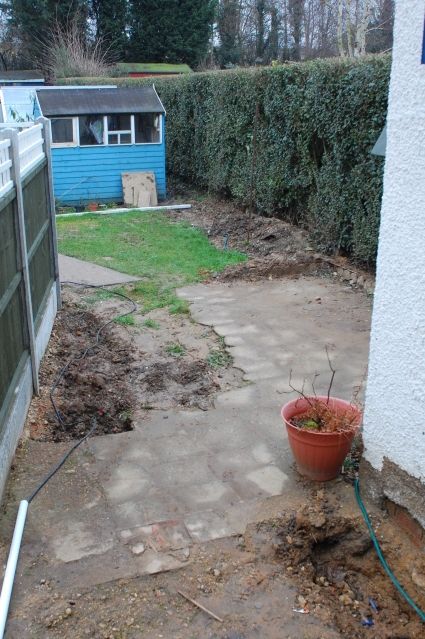 24 hours later. The crazy paving was removed, soil dug out to a deeper level and base laid for patio and pathway. Then the sand screeded for the pathway to the gate.
c
c
All finished in a few days. They even rendered part of the exposed brick work on the extension that I had uncovered when I ripped out the old raide patio for me free and gave me a massive pile of good quality top soil left over too. Best landscapers I have ever used. Cleared all the rubble away and left none behind whatsoever.
Love the riven stove they used and the french pointing they did too.
March
I began building myself a nice missile for the back garden as a bit of feature.
Well I say a missle, it was more aimed at the birds than me to hang feeders off of. I could now watch them feed from my kitchen window. I should add that the arms of the station were made from the post that had been used to mount our far sale sign from the estate agents.
Our gates were then installed which Dave had been busy building since Febuary. Click the image below to see their working progress
April
I decided that I needed a new shed as I really wasn't happy with my old one. I sold the old one and bought myself a new one.
New shed arrived and then spent most of a day putting it up, although it's still missing it's door and a few other bits to finish it in this picture, as these need alterations.
Looks much better and bigger than the old one all ready
c
c
The shed was then painted. Then I dug up all the neglected lawn in front of it in the blazing sun. I must have dug out well over 50 dandelions today and one tap root was nearly as thick as my arm!
May
By May I was busy planting up the whole area. This whole patch I didn't really buy any plants for as a lot of them I dug out of the front garden after they had self seeded, mostly foxgloves and verbascums. I then sowed some seeds onto the area as well, mostly wildflowers and some poached egg plants. The aim is to give this border over to the bees.
Also painted the garage wall, to brighten it up a bit.

June

Things are filling out quite nicely now.
Nigellas are about to flower along the picket fence
July
More pictures of the garden, which is now flowering.Not nice and tidy but I like it this way.
Nigellas along picket fence, which have now spread to the vegetable patch.
Front garden, is a bit neglected and has gone a bit made with daisies this year. The bees like it though.